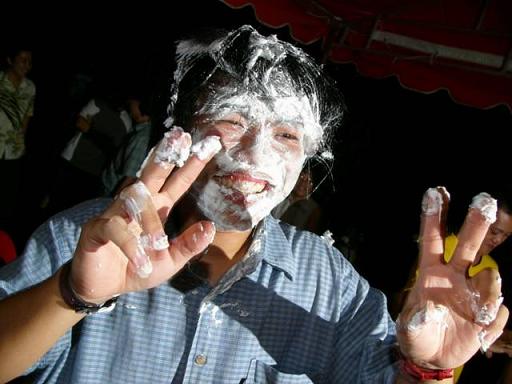 What a Joke!...Didn't know JEAN was the ONE who plan da cReam W A C K on me!

ThAnks to
Both my Parents for giving me & Jean full Support to go ahead with the party and...dealing with the bills hehe.
Family members & m@tes who turned up and HELPed make dA pArty HAPPENIN-not forgetting presents from U guys and em,not Crying at da N of da day.
Boon Hoe for making dA fruit CAKE, so touching!
Aunty Honey for the WARNING... unfortunately it didn't help, i was so Blur then ...."what a Waste hor?"
Jean who come out with such CrE@my idea...sweeet.
Louise who came up from behind with the cream ...u daring lil devil.
SzeAnn who came from da FRONT with da Cream...MAAAAAAN, u had me BIG time!
Cameraman YingHong, JunWen, Eugene, BoonHoe & Andy for that video capture of me Being Face SMACKd! Good Job which made GREAT pictures! man....those flashes from all yo cameras made me felt like a "STAR"